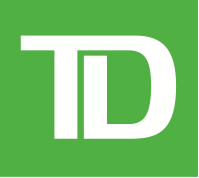 The Nina was thrilled to work with Raneece Buddan for a series of workshops and exhibition in December 2021 – January 2022. This collaboration was made possible with support from TD.
Raneece Buddan is a Jamaican artist who moved to Alberta in 2015 and completed her BFA in Art and Design at the University of Alberta in 2020. In her work she focuses on her cultural identity as a Jamaican woman of Afro and Indo-Caribbean descent. She depicts the merging of these cultures by replacing her skin tone with fabrics meant to represent each. Her process is based on material exploration and finding figures within the material, the grains of the wood and mounds of clay. She sees them as being stuck between a phase of abstraction and realism; state of uncertainty. The goal of each piece she creates is to learn more about herself and celebrate the beauty and complexity of her ethnicities and culture throughout the process. Her studio focuses are oil painting, woodworking and ceramics.
Textile Collaging on Pinch Pots Workshop
In her paintings and sculptures Raneece incorporates a variety of materials to emulate different textures. She uses gel medium, sequins, beads, embroidery thread, synthetic hair, and most importantly fabric. The fabrics she uses are either dutch wax fabrics that are block printed or silk fabrics with more fine detailed embroidery like sequins and beading. She most recently started adding fabric to her ceramic pieces to make them more colorful but also to tie her paintings and sculptures together.
Inspired by this new technique she was solidifying in her work, she thought this would make a great workshop that would allow the Artists to create unusual and unique pieces. It would be a new way of working versus the traditional glazing technique in ceramic work.
The workshop was split into two parts, four sessions. The first two sessions allowed the artists to make their own pinch pots out of clay which were then fired and finished two weeks later. During the second and final session, the artists started off their pots by doing acrylic patinas to add color and a base. The Artists were given a variety of materials to choose from which accommodated each person's style and individual interest. This resulted in no two pieces looking the same.
Nina Collective Artists:
Faraz Asif,
Scott Berry,
Judy Billard,
Diane Cleaver,
Sam Crier,
Deserie Dick,
Dale Donahue,
Aba Garbrah,
Aaron Harvey , Brenda Lapointe, Brittany Leitheiser, Erin Lepine, Michael Maguire, Michelle Pasemko, Andre Plamondon, Jared Quinney, Lisa Reece, Carrie Reed, Collette Villeneuve, and Carrie Wheeler
 A message from Raneece to the Workshop Participants:
"Thank you all for being a part of my first ever workshop! Thank you for being open to a new form of working and not stepping down from a challenge. I enjoyed my time with you all and you made my time here at the Nina very special."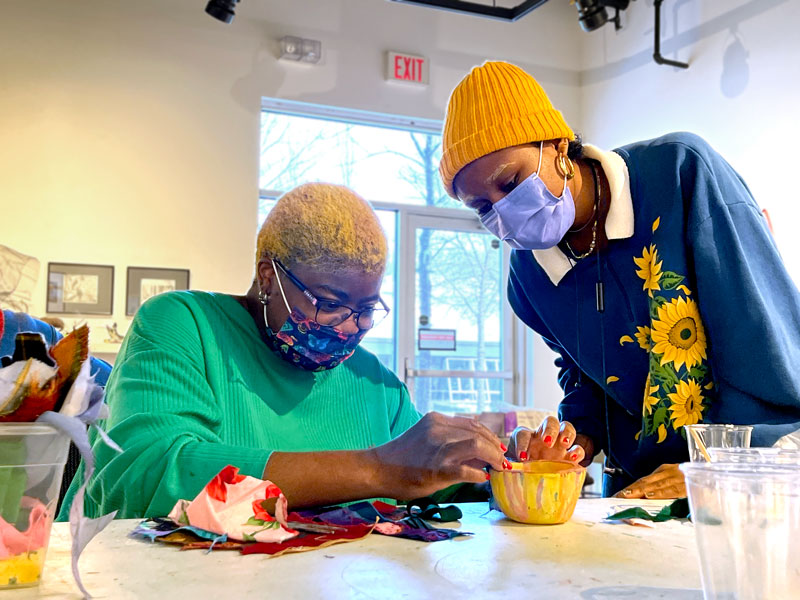 Aba Garbrah adding fabric to her pinch pot alongside Raneece.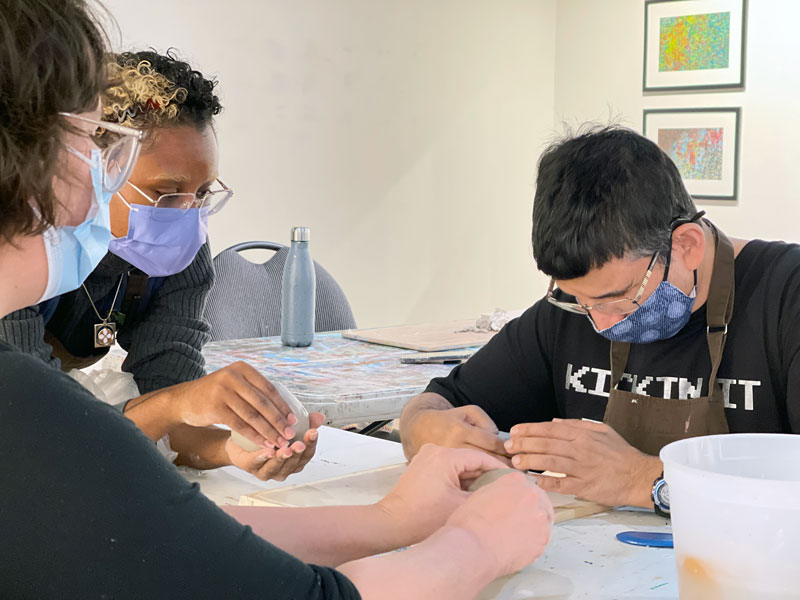 Hilary, Raneece, and Faraz forming pinch pots out of clay.
Diane Cleaver pressing sequins onto her pinch pot.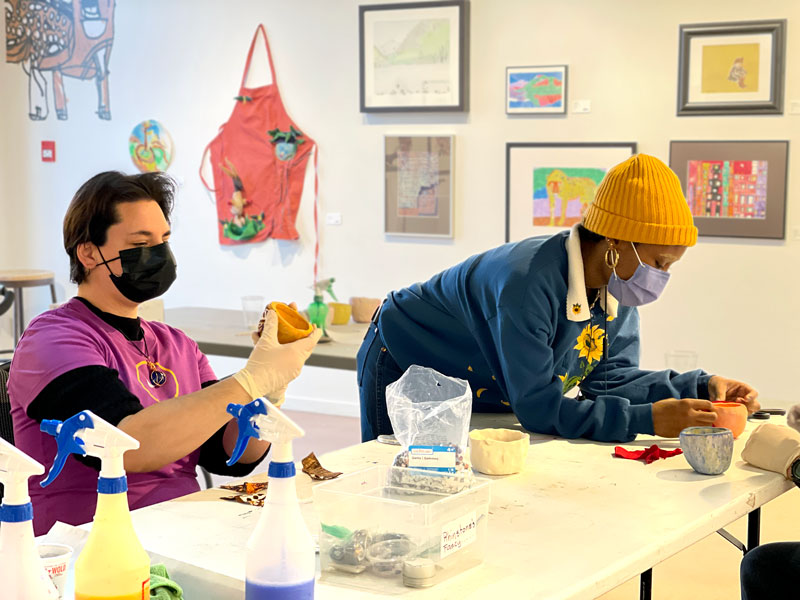 Collette Villeneuve decorating her pinch pot next to Raneece.
De more yu luk, de less yu si
January 19 – February 19, 2022
Stollery Gallery at the Nina Haggerty Centre for the Arts
9225 118 Ave NW, Edmonton
 "De more yu luk, de less yu si" or "The more you look, the less you see" showcases recent work by Raneece Buddan, as well as the completed projects made by Nina artists during the workshop series. This exhibition is the culmination of Buddan's collaboration with the Nina Collective of artists with developmental disabilities in December 2021, presented by TD.
Gallery Hours:
Monday – Wednesday, Friday: 9am – 3pm
Thursday: 9am – 7pm*
Saturday: 1-3pm
*Closed from 5-7pm on Thursday, February 17 for a private reception.
Please note that masks and proof of vaccination are required to visit the gallery.