become an artist's patron
see how your support can directly change a life.
Becoming a patron provides the opportunity for you to forge a personal relationship with one of our artists while supporting the continued development of the careers and practices of all artists in the Nina Collective.
The artists in the Nina's collective are all adults with developmental disabilities, and most live on a limited fixed income. After rent, transit passes and other necessary monthly expenses are paid, very little is left for discretionary spending. Even the nominal fee to join our collective is beyond many.
Your support as a patron keeps our annual membership fee low and allows us to waive the fee for those who find it a barrier to participation.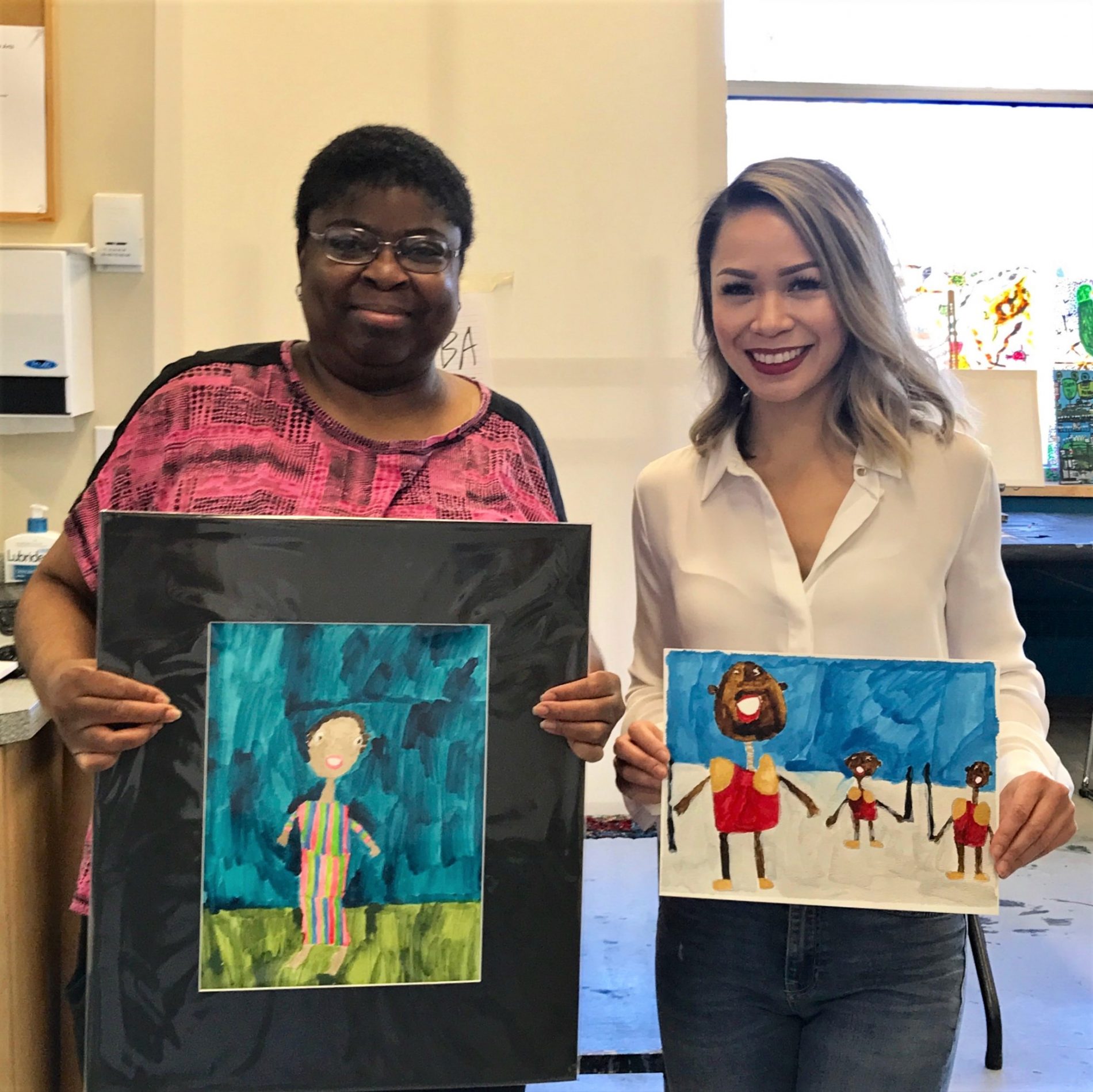 Your one time $500 donation or monthly $42 donation as a patron gives artists with developmental disabilities the opportunity to create in our studios and express themselves in new ways. You will be randomly paired with an artist and receive their biography and an original piece of their artwork, as well as:
A charitable tax receipt in the full amount of your donation
Invitations to special events and exhibitions
Invitation to attend the annual Patron's Luncheon
One free ticket to our annual awards gala
Recognition on our website and Annual Report
The opportunity to be part of an emerging artist's journey
To become an Artist's Patron or for more information, contact Wendy Hollo at wendy@thenina.ca, or (780) 915-9037
thank you to our current and past Artists' Patrons!
2019 Patrons
Bonnie Abel
Ghalib Ahmed
Wendy Antoniuk
Doris Bonora
Denise Budney
Trudy Callaghan
SzaGo Consulting
Barbara Day
Brian Dickinson
Delores Dilke
Stephen (Chai) Duncan
Nancy & Nicole Easton
Jodi Eyolfson
Iannic Fallu
Dina Floreancig & Salvatore Miniaci
John Freeman
Jodi Glen
Jackie Rae Greening
Timothy Grover
Dao Haddad
Sara Hart
Bev Hills
Ailien Holdis
Wendy Hollo
Ellen Hughes
Laurie Kellough
Janice Kosak
Jonathan Kosak
McKenzie Kosak
Kelly Kimo
Bruce Kirkland
Shelagh Kubish
Glenn Kubish
Bruce Laverty
Lynn Mandel
Stephen Mandel
Chase Tighe
Morgan Marley
Colette Miller
Matt Miller
Amanda Nielsen
Kimberly Nishikaze
Joseph Ochman
Odvod Media
Catrin Owen
Walter Pavlic
Michelle Perret
Mary Persson
Fred Pheasey
Linda Poignant
Gary Poignant
Julia Rudko
Dominic Schamuhn
Anne Shillington
Adam Skoreyko
Kierston Smyth
Megan Anise Starchuk
Barbara Steckly
Curtis Stange
Marilyn Sterling
Chelsey Swankhuizen
Sherri Turner
Adrienne Vanderheyden
Derek Wicks
2018 Patrons
Adam Skoreyko
Andrea Mondor
Anne Shillington
Barbara Steckly
Bev Hills
Bonnie Abel
Brian Dickinson
Bruce Kirkland
Carolyn Patton
Catrin Owen
Clint & Geneva Sopchyshyn
Colette Miller
Dao Haddad
Dave Mowat
Debra Wooding
Derek Wicks
Kimberly Nishikaze
Doug Sheremeta
Elizabeth Anne Macdonald
Ellen Hughes, Elaine Betchinski
Ghalib Ahmed
Glenn Kubish
Iannick & Deanne Fallu
Jackie Rae Greening
Janet Pavlic-Wendy Hollo
Janice Kosak
Jennie Lewin
Jennifer Steckly
Jerry Debko and Ailien Holdis
Jodi Eyolfson
Jodi Glenn
John Freeman
Jonathan Kosak
Justine Ting Lee
Kate Gunn
Kate Rich
Bruce Laverty
Katherine Huising
Kelly Kimo – Production World
Kelly McClung
Kendell Bousquet
Laurie Kellough
Lynn Mandel
MacKenzie Kosak
Mary Persson
Megan Anise Starchuk
Megan E. Rich
Michelle Perret
Morgan Marley
Nancy Easton
Nash Marani
Orville Chubb
Rhonda Shewchuk
Robert McPherson
Rowena Cui
Sara Hart
Shelagh Kubish
Shelby Willis
Stephen Mandel
Stuart Tate
Trudy Callaghan
Amanda Nielsen
Laila Adam
Kierstin Smyth
Walter Pavlic
Stollery Gallery Hours
By appointment. Call (780) 474-7611
or email janice@thenina.ca to arrange your visit.
Studio Hours
Monday:
9am - 11:30am; 12:30pm - 3pm
Tuesday - Friday:
9am - 11:30am
Statutory Holidays: closed
Contact
(780) 474-7611  info@thenina.ca