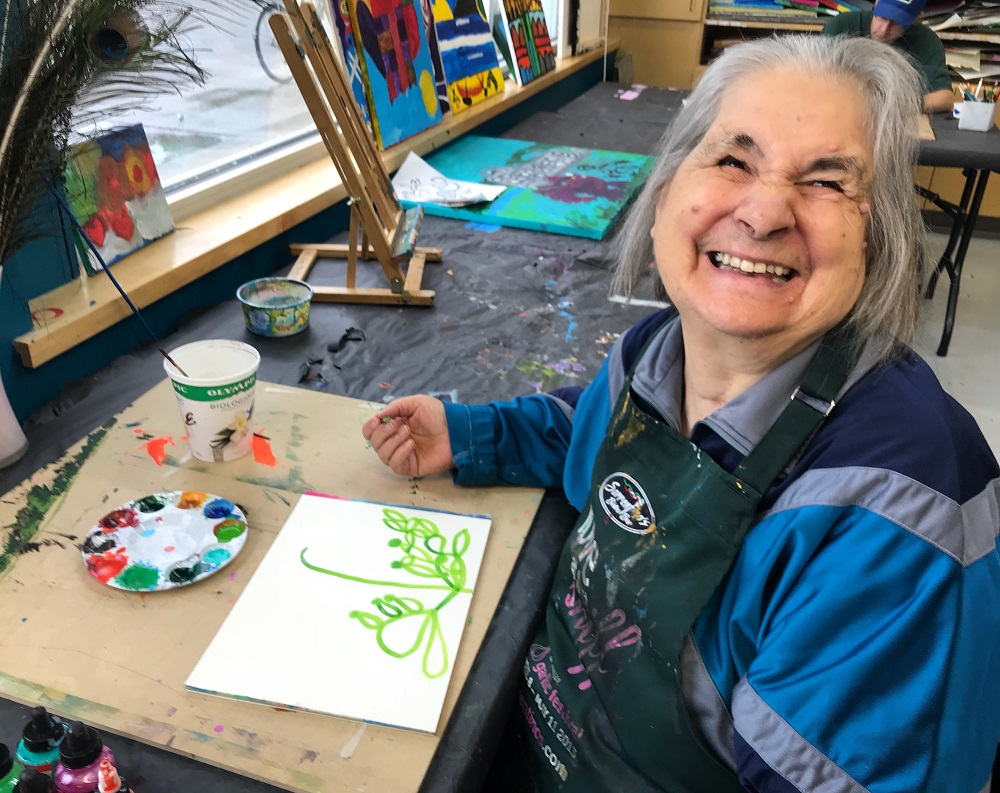 Born in West Germany in the midst of World War II, Ulrike (Uli)  Rossier came to Canada when she was 23. Always interested in art, she once had her own loom and taught weaving. Uli typically works in acrylic ink and oil pastels, creating richly coloured drawings with playful designs. She considers her drawings to be abstract representations of nature, the seasons, and her own mood. Green is her favourite colour, she says, as it represents life. Uli is a prolific painter and many of her works have been sold and exhibited, including at large scale reproductions at the Edmonton Convention Centre and on billboards throughout Edmonton as part of YEG Canvas. Her highly distinctive style has many fans, and she always recognizes her own work with delight.
As the 2021 Stantec Artist of the Year, Uli will have a solo exhibition of her work displayed throughout the City of Edmonton.
Selected by the Creative Team at the Nina the ARTIST OF THE YEAR is an artist who has demonstrated a consistent commitment to their growth as an artist over a period of at least two years. This artist has developed a vision for their own art making which can be seen through the development of consistent identifiable style and a persistent interest in media or subject matter, resulting in artworks that are consistently chosen for exhibition or sale.     
Gift shop & Gallery Hours
Mon, Tue, Wed, Fri: 9AM - 3PM
Thu: 9AM - 7PM
Sat: 1 - 3 PM
Studio Hours
Mon - Wed: 9AM-11:30AM, 12:30PM-3PM
Thu - Fri: 9AM-11:30AM
Please note that as of September 20, 2021 all visitors are required to provide proof of vaccination.
Contact
(780) 474-7611  info@thenina.ca