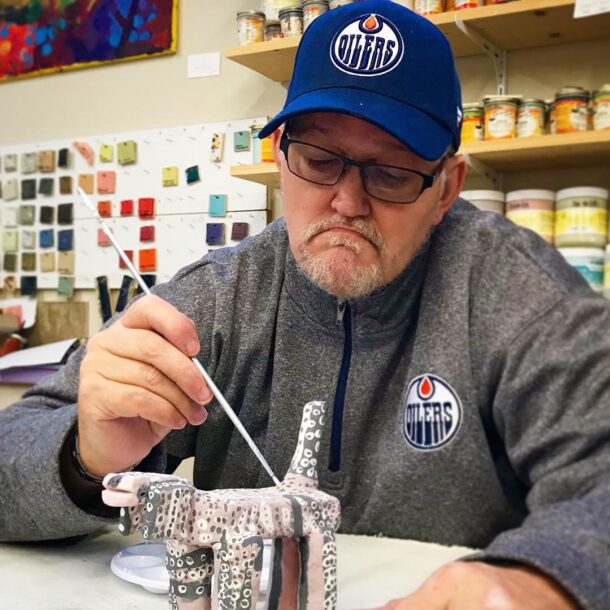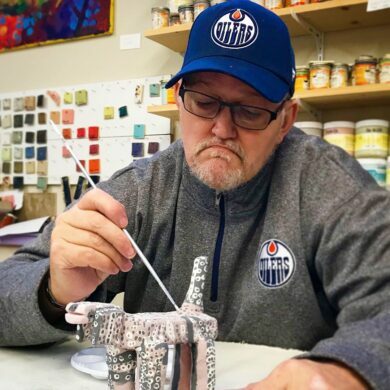 Boyd works mostly in printmaking and clay, exploring both natural and figurative themes. In his artwork, Boyd references things that he observes in his day-to-day. This can take form in ceramic sculptures of pop-culture figures from magazines or television, humorous portrayals of animals from reference photos, and natural environments that he is fond of.
Although he works at the Nina three times a week, Boyd also finds time to build things outside of the studio, giving everyday objects new functions. His fondness of assemblage reflects in the diverse scale of his artwork, and in the way he methodically works both inside and outside his studio time.
In 2020, Boyd received the Lexus of Edmonton "Changed Life Award".
Lexus of Edmonton
Changed Life Award Winner, 2020
"This artist helps us show how profound becoming part of the collective at the Nina can be. The artist's experiences here have enabled them to change their view on life and add the word artist to the story the tell about themselves. The people they know have a new appreciation for their unique abilities and commitment to themselves"
Gift shop & Gallery Hours
Mon - Fri: 9AM - 3PM
Studio Hours
Mon - Wed: 9AM-11:30AM, 12:30PM-3PM
Thu - Fri: 9AM-11:30AM
Please note that as of September 20, 2021 all visitors are required to provide proof of vaccination.
Contact
(780) 474-7611  info@thenina.ca