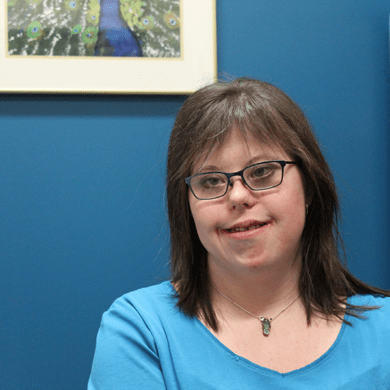 Alana is a natural performer and artist. She has collaborated and performed along with Nina artists in the recent productions of New Voices, Time for Change (2017) and she was puppeteer in the Edmonton Arts Council project, Crooks, and Crowns & Cowboys (2013). Among her accomplishments she is a Special Olympic athlete in both figure skating and rhythmic gymnastics. She has a full schedule and is a member of Voices at the Table, VATTA, an advocacy group for persons with Down Syndrome. She has attended multiple national conferences as member of the Canadian Down Syndrome Society and has spoken to medical students about Down Syndrome and the crossover behaviors of Autism. She says,
"I love to perform and I use it to be a good example."
She has been coming to the Nina Haggerty Centre for the Arts for several years. She enjoys creating intricate drawings, paintings and sculpture.
"I like making art because it's a way to express myself – it's my own interpretation of how things are."
Time for Change was written and composed by Alana Gersky with Raphael Freynet
Vocals by Angela Trudel
Produced and arranged by Raphael Freynet Music Video produced directed and edited by Yvonne DuBourdieu of Arthouse Productions.
This video is part of New Voices presented by ATB Financial with support from the Edmonton Arts Council.
There is currently nothing by this artist in our online shop.
Email janice@thenina.ca to inquire about purchasing this artist's work, or stop by our gift shop M-F 10AM – 2PM at 9225 118 Ave.