the Stollery Gallery
 

is committed to showing art by underrepresented artists, including our own collective.
Gallery Hours
mon – friday: 9AM – 3PM
saturday: 1-3PM (during exhibitions)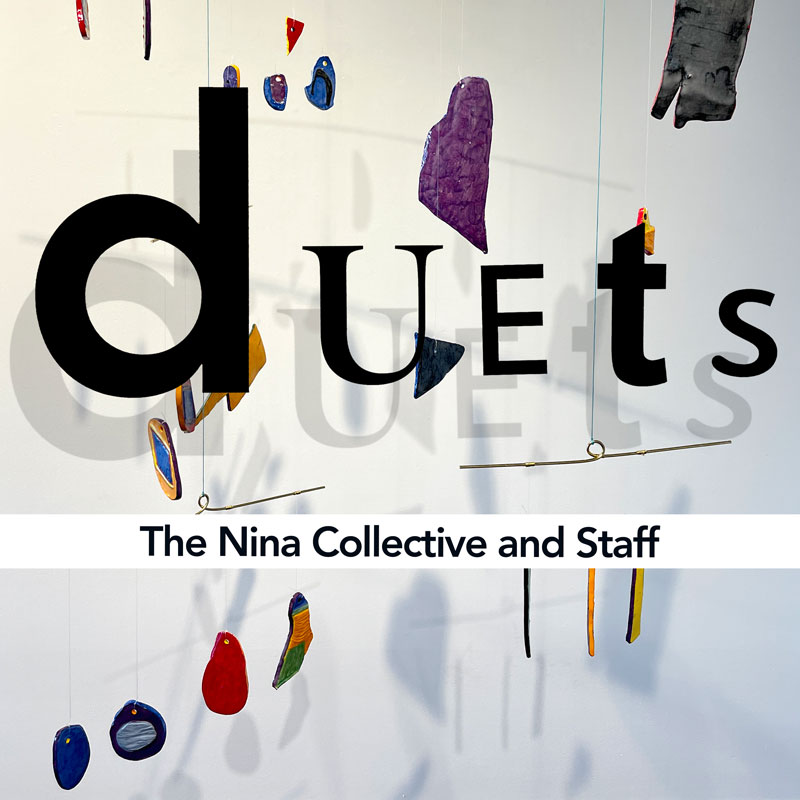 Duets
The Nina Collective and Staff
May 2 – June 4, 2022
A mix-and-match show of pairings between the Nina collective and artistic staff:
Dean Bardal & Brenda Kim Christiansen
Amanda Bauer & Mitchell Chalifoux
Edith Chu & David Dang
Sophie Connell & Hilary Mussell
Tim Crnkovic & Anica Neimen
Rodney D. & David Janzen
Madison Dewar & Dean Olesky
Boyd Dymchuk & Amanda Howell
Mathieson Erickson & Jared Quinney
Lucille Frost & Carrie Wheeler
Jamie Laventure & Holly de Moissac
Amynah Pirani & Sue Seright
Andre Plamondon & Tatyana Semenova
Cynthia Sentara & Mark Traficante
Our gallery is wheelchair accessible. Please contact janice@thenina.ca with any other accessibility needs.
In addition to our on-site Stollery Gallery, the Nina Collective's work can be seen in a number of spaces throughout Edmonton, including:
City Centre Mall window display
Corner of 102 A Ave & 100 Street, Edmonton, AB
current exhibition:
Nina Collective – Spring Show
Edmonton EXPO Centre
7515 118 Ave, Edmonton, AB
The EXPO Art Pavilion features eighteen pieces of art from the Nina Collective, including three large-format reproductions of paintings by Decinti Simpson (Fall Leaves) and Lora Pallister (British Columbia and Trees).
Additional artworks will be added to the space in early 2020.
we are accepting proposals for future exhibitions.
are you an artist who faces barriers to sharing your work? apply to exhibit in the Nina's Stollery Gallery